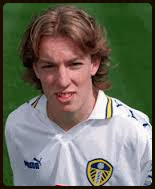 Irish born forward Wesley Boyle saw a promising career at Leeds United decimated by a series of cruel injuries and some poor advice from the clubs medical staff.
Boyle, who hails from Portadown moved over to England at the age of 16 after being offered a contract by Leeds following a successful trial:
"I had been playing in the first team for my home town club in the Irish League. My performances attracted Leeds' interest and the club invited me over for a week in February 1996."
Like all the youngsters, Boyle, who returned three weeks later, was put in digs in Barwick-in-Elmet and although he initially suffered with bouts of homesickness, he found some comfort in the fact that there were a number of Irish lads already at Ellland Road:
"Stephen McPhail, Ian Harte and a lad called John Butler were in the same digs and they helped me settle down and get familiar with my new surroundings."
Despite the fact that Boyle had played for the first team back home, he wasn't deemed strong enough or fit enough at Leeds and it wasn't until after a couple of months hard work that he started to play regular football for the youth team.
The following campaign, Wes' first full season at the club, saw Howard Wilkinson dismissed following a poor start and George Graham, his replacement, would hand the Irish youngster his Leeds debut despite the fact he had hardly played any reserve team football:
"It was incredible really. I had booked a flight home that weekend so that I could visit my parents but Paul Hart, on the Friday, told me to cancel my plans as I was in the first team squad for the home game against Newcastle United.
"Initially I thought I would be included just for the experience and I wouldn't make the final 16. It then became apparent that Lee Sharpe was struggling with an injury and there was a chance I would start the game.
"We were in the Holiday Inn pre-match and Paul Hart informed me that I would be on the bench, the nerves started to set in and I couldn't quite believe it."
As was always the case, Leeds conceded a goal to Alan Shearer. It ensured the Geordies returned to the north east with all three points but despite the disappointing result, which left the new manager still awaiting his first point, Wesley Boyle fully enjoyed the occasion:
"I was on the bench with Lucas Radebe, Mark Beeney, Mark Jackson and Jason Blunt and although I had been sent out to warm up a few times, I honestly didn't think I was going to get on."
The youngster did get on with six minutes to go and the man he replaced was one of his idols:
"I'm a Liverpool fan and Ian Rush was one of my heroes as a kid. I had pictures of Rush and his Liverpool team mates plastered all over my bedroom walls and to come on for him and make my debut was incredible.
"As Ian left the pitch he shook my hand and said: "All the best son", and that was it, I was playing for Leeds United at Elland Road in front of 36,000 people.
"The little time that was left flew by but I managed to get a few touches of the ball and it was something I will never forget."
Boyle was named on the bench for further games, away at Darlington in the League Cup and then away at Leicester City in the league but on both occasions he was an unused substitute.
After being involved in the first team, confidence was high and despite the fact that he spent the remainder of the season in the youth team and reserves, it ended on a high note when the youngsters lifted the FA Youth Cup:
"That was another highlight and I was lucky enough to score in the first leg of the final at home to Crystal Palace. The run to the final was fantastic and as we progressed through the tournament there was a massive buzz as we eagerly awaited the draw to discover our next opponents.
"Paul Hart and Eddie Gray were our coaches and they were top men. They knew that they had a very good crop of youngsters and although they were hard but fair, they never stopped encouraging us. The standards were high and God help anyone who stepped out of line."
After lifting the Youth Cup, Boyle returned to the club the following season looking to push on and be back in contention for a place in the first team squad but early on in the season he suffered the first of a series of cruel setbacks:
"I got a cut to my leg caused by an opponent's studs and the dirt and paint from the markings on the pitch poisoned my leg. I was rushed to hospital to have it drained and I was out for six weeks."
Despite returning to fitness, working hard in training and impressing for the reserves there was no sign of first team football. The second string were flying and would go on to win the league but looking back on that time, the young Irishman wishes he'd had the opportunity to go out on loan:
"It was very enjoyable playing in the reserves with lads like David Hopkin, Robert Molenaar, David Robertson, Alan Maybury, Stephen McPhail and Jonathan Woodgate but the opportunity to play in the lower leagues would've benefited my development and made me fitter and stronger. Some of the other lads went away for temporary spells but I never had the chance."
The 1998/99 season saw yet another managerial change at Elland Road when George Graham returned to the capital and was replaced by David O'Leary. It was a fresh start for everyone at the club and has the new manager introduced the youngsters one by one, Boyle saw his chances disappear due to another unfortunate injury:
"I had a problem with my heel and I could barely walk, let alone run. I was sent for an operation in the February to shave some bone away from the heel and I was informed that I would be out for around six weeks but unfortunately, the operation didn't solve the problem and I was left in discomfort with my season in tatters."
Despite playing a few friendlies the following summer, the problem flared up again and the physio Dave Swift informed Boyle that a further op was required to remove more of the bone:
"I realise now that was bad advice and the operations were not required. I couldn't seem to recover from them and struggled to run. I had no chance of getting fit and getting my boots on and in November 1999 I was sent home to rest and another season had passed me by. I was in the third and final year of my contract and the frustration was getting the better of me."
When Boyle returned to the club for the start of the 2000/01 season he was sent to Aberdeen to see a specialist and a third operation was on the cards:
"I travelled to Aberdeen with Swift and David Batty, who also needed an operation. The specialist recommended I underwent heel construction but before the operation was booked in, Swift was replaced by Dave Hancock and the new physio seemed to understand more about the problem.
"Hancock was adamant that if I had the third op then I would never play again. He vowed to get me playing but it would take six months of re-hab. That was music to my ears as all I wanted to do was play football."
Reflecting on those dark days, the youngster admits that Dave Hancock saved his career:
"I was full time in the gym doing cycling and weights, building my strength up and I was back playing at the end of that season. I featured in the final seven reserve games and I managed to score a few goals. It was enough for the club to offer me a one year deal which I was obviously delighted with."
Yet again, Boyle came back after the summer looking to push on and after a productive pre-season and making an impression in the reserve side, he was called up to play for the Northern Ireland under 21s:
"I represented my country against Malta and managed to score during the game. However, in the process of scoring the goal I turned on my ankle which caused me a lot of pain.
"The ankle was badly swollen and I ended up having an operation to clean the ankle out and remove some floating bone. I was living a nightmare and the injury set me back until March, It destroyed me and the whole situation was impossible to take in."
By the time he was fit to play again, the season and Boyle's contract were drawing to a close. He went on trail to Hull City and Rushden & Diamonds but nothing materialised and he returned to Northern Ireland.
Wes looks back on his time at Leeds and wonders what might have been had he not suffered those cruel setbacks and injuries:
"I had some remarkable highs and lows. Leeds United was a fantastic club to be at and to play and train alongside the players I did was brilliant.
"There were special talents at the club. Jonathan Woodgate had unbelievable ability and had he not suffered like he did with his own injury problems, he would have been among the best centre backs in world football.
"He was strong, his heading and passing ability were exceptional and whether in training or during a game, he never got skinned.
"Stephen McPhail was another great player. Michael Bridges was superb, he was phenomenal in and around the opposition's penalty area and he had the ability to score all types of goals and the same applies to Mark Viduka.
"Despite my injury setbacks and low points, I had some incredible laughs. I will never forget a time when I was out for a prolonged spell and was joined in the treatment room by David Batty, Michael Duberry, Jason Wilcox and Lucas Radebe.
"One of the physio's, Alan Sutton, liked a good laugh and he was always giving out some stick. Well, on one occasion, Batty and Wilcox wrapped 'Sutty's' car up in ankle strappings. It was completely covered.
"Later on that evening, 'Sutty' phoned me and accused me of being the culprit. He told me that we were finished and he wouldn't give me any more treatment. I pleaded with him that it had nothing to do with me but he wasn't having any of it and he hung up.
"The following day, he had really fallen out with me and was far from happy. The two offenders were in hysterics that I had taken the blame but thankfully, soon after, the truth came out."
Thank you to Wesley Boyle for his time and giving me the opportunity to write this article.