GREATEST GAMES:
LEEDS UNITED 8 LEICESTER CITY 0
7th APRIL 1934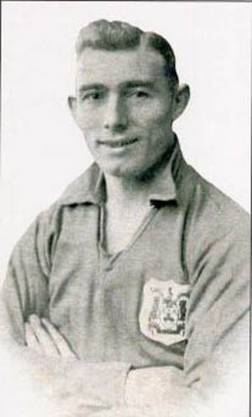 April 1934 and the Football League campaign was rapidly nearing its end. For Leeds United it was an inconsistent season with remarkable highs and lows throughout.
Goals were common-place in Leeds games that season. At Elland Road, Middlesbrough were beaten 5-2 in August, Blackburn Rovers lost 4-0 in December and Liverpool were on the wrong end of another 5-2 scoreline in March.
On the road United were beaten heavily at Birmingham City (0-4) in September, and Tottenham Hotspur (1-5) in March. High scoring games also included a 4-2 defeat at Blackburn's Ewood Park on the opening day, Sunderland beat Leeds by the same scoreline at Roker Park in October and a week later Villa left Elland Road with the points following a 4-2 win. Liverpool triumphed 4-3 at Anfield whilst Leeds and Wolverhampton Wanderers shared six goals in a thriller in West Yorkshire just before Christmas.
However, on the 7th April, with Leicester City visiting and Leeds' leading scorer, Arthur Hydes, missing through injury, the 11,871 spectators who passed through the turnstiles, could not have expected what they were about to witness.
A preview, the day before the game, in the Coventry Evening Telegraph predicted a draw, stating that a point for the visitors would surely diminish any relegation fears.
Stalwart, Willis Edwards returned to the Leeds side for the first time since Christmas Day and the two teams lined up as follows:
Leeds United: Moore, G. Milburn, J. Milburn, Edwards, Hart, Copping, Mahon, Firth, Duggan, Furness, Cochrane.
Leicester City: McLaren, Jones, Wood, Smith, Sharman, Ritchie, Maw, Paterson, Gardner, Lochhead, Liddle.
Referee, Bootham from Walsall, officiated a game played in brilliant sunshine and Leeds would have the wooden rattles clicking away all around Elland Road as the eight attempts that flashed past Sandy McLaren in the Leicester goal, four in each half, all came within a 50 minute spell.
In fact, the visitors had started the game in promising fashion and Stan Moore was called on to make a couple of decent saves. However, Leeds, buoyed by the return of Edwards, soon hit top gear. Edwards was at his brilliant best, controlling the play and spraying the ball around with ease.
Irish international, Harry Duggan (pictured above), fired Leeds in front after 25 minutes and by half-time the hosts held a 4-0 lead. Jack Mahon struck twice, after 34 and 44 minutes with a Billy Furness goal sandwiched in the middle.
There was no holding back when the two sides returned after the interval. Furness grabbed his second and Leeds fifth after 48 minutes. Duggan's second brought up the half dozen 13 minutes later before Joe Firth bagged a brace of his own, the first coming a minute after Duggan's had found the net and he rounded off what remains Leeds United's biggest league victory with 12 minutes left.