SEPTEMBER '64: LEEDS KEEP 'THE DON'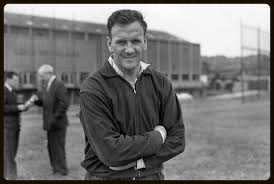 From 1919 to date, there has only been one manager who has brought consistent success to Leeds United over a prolonged period.
In March 1961 with Leeds United struggling at the wrong end of the Second Division, the club parted company with manager Jack Taylor and appointed Don Revie, who was on the playing staff at Elland Road.
Just before his appointment, Revie had looked set to leave Elland Road to become manager of Bournemouth. However, the south-coast outfit could not raise the £6,000 demanded by the Leeds United board of Directors and the move fell through.
Radical changers were made at Leeds. Revie, a superstitious character, changed the club badge. His view was that birds were unlucky and subsequently the owl was removed from the crest. A youth system was set up and that would eventually pave the way for a decade of glorious football witnessed at home and abroad.
After surviving relegation, Don Revie set about his task to get the club challenging at the top end of the second tier and had it not been for a harsh winter in 1963, many say Leeds would have been promoted. The subsequent fixture backlog had a negative effect and Revie's men finished fifth.
United secured First Division football by winning the Second Division in the 1963-64 season and after a fine start to life in the top flight, Don's achievements were being noticed.
In the summer of 1964, Alan Brown had stunned Sunderland Football Club by leaving his job as manager, to take over at Sheffield Wednesday and George Hardwick was placed in the role of caretaker-manager.
News broke on the 16 September 1964, front page headlines of the Newcastle Evening Chronicle, that Don Revie had applied, in writing, to become the next permanent Sunderland manager. Harry Reynolds, the Leeds United Chairman, was quick to pour cold water on the idea.
Reynolds, recovering from having 64 stitches in a head injury sustained in a car accident, was speaking from his hospital bed, in Barnsley, and he told the media that:
"Under no circumstances would Leeds United release Don Revie from his Leeds United contract".
The contract Revie was under at Leeds was a three year one, Revie was a year into it. However, Reynolds declared that during the negotiations, Don Revie had asked for a five year deal. Reynolds had fought hard, against the Directors, to increase the term but admitted the club were not strong enough to carry it through.
Revie, that afternoon, visited his Chairman at the hospital. The visit only lasted a matter of minutes and although the Leeds manager admitted that the Sunderland vacancy had not been discussed, he still wanted to go.
Meanwhile, in the North-East, the Sunderland Chairman, Syd Collings was flying out to Majorca. He departed for Spain after a three hour board meeting and stated:
"I have given the board a full mandate to negotiate in my absence and I have complete confidence in their ability to see the job through successfully."
Sunderland's vice-Chairman, Laurie Evans followed up Collings' statement by confirming that the matter would be dealt with in a proper and orthodox manner and he would be speaking to Leeds United before any decision is made. He did, however, also confirm that the Roker Park club had received countless other applications for the vacant position.
Back in 1956, Revie, who enjoyed a successful career as a player, had signed for Sunderland for a fee in the region of £24,000 and was appointed the club captain. He stayed at Sunderland, making a total of 64 appearances, until his transfer to Leeds in November 1958.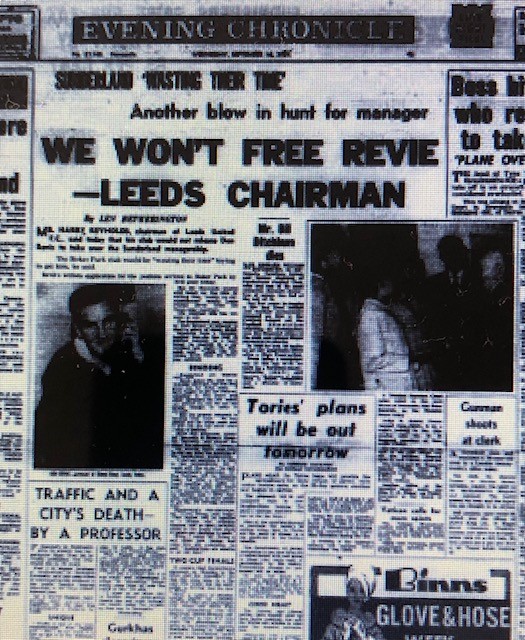 The speculation was far from welcomed in West Yorkshire and that evening Leeds had an important First Division fixture to play at home to Blackpool. Just nine days earlier, the Seasiders had put Leeds to the sword at Bloomfield Road with a 4-0 win and United wanted revenge.
It was a bitter-sweet night at Elland Road for Billy Bremner. Leeds won the game 3-0 courtesy of two goals from Bobby Collins and one from Norman Hunter. The scoreline should have been more emphatic but Bremner, who had scored a penalty in the previous game, saw two spot-kicks saved by the Blackpool goalkeeper, Tony Waiters.
The speculation was intense and after the final whistle at Elland Road, the Leeds United Directors met for discussions which would continue until close to midnight.
An agreement was reached and a statement was released which confirmed that Don Revie would be staying at Leeds United after being offered a five year deal, starting back from May 1964, which he had accepted.
Revie still had plenty to say on the matter and he told Len Hetherington, a reporter for the Newcastle Evening Chronicle:
"I am sorry to have caused Mr Evans so much trouble but Leeds were adamant about my staying with them.
"It looked like being a long, drawn out business because Leeds were determined to hold me to my contract which has 18 months to run.
"If they had agreed to let me go yesterday morning, I would have been at Roker Park right away - but now it's all over."
That is how close Leeds United came to losing Don Revie. The great man would go on to oversee a decade of success as 'The Whites' conquered at home and abroad.
How grateful we should remain for the determination of the Leeds United Board and to Don Revie for signing that new deal. The rest, they say, is history.