THE HARD MAN WHO COULD PLAY
A tribute to Norman Hunter...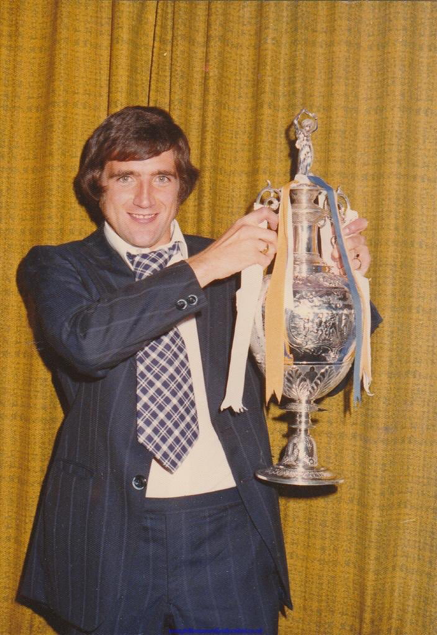 The shattering news of the passing of Norman Hunter was delivered on 17 April 2020. A victim of the terrible COVID-19 pandemic.
Norman Hunter joined the Leeds United ground staff in November 1960 and went on to make a total of 726 appearances, scoring 21 goals, during the clubs halcyon days.
Affectionately known by the moniker 'Bite Yer Legs', Norman was a man among men. A tough tackling defender who struck fear into centre forwards at home and abroad.
As Don Revie began to shape a squad that would eventually get the club out of the Second Division, Hunter was one of several youngsters blooded in the 1962-63 season. He was handed his debut in a 2-0 win away at Swansea Town on 8 September 1962 and was virtually an ever present until departing for Bristol City in late October 1976.
The game at the Vetch Field is significant for the fact that Paul Reaney, another stalwart, also made his debut that afternoon, as did Rod Johnson whilst goalkeeper Gary Sprake was brought in for only his second Leeds appearance.
Norman admitted that the three of them thought they had travelled to Wales to get some idea of what went on in the build up to a first team match and it wasn't until one hour before kick off that they found out they would be playing.
It could have all been so very different. In April 1962, the Leeds United goalkeeper, Alan Humphreys, took ownership of a motor car and picked up some of his team mates to go for a drive with him. Terry Casey, a young player coming through the ranks, with four first team games under his belt, had a foot race with Norman to sit in the front passenger seat. Terry got there first and unfortunately the car was involved in an accident in foggy conditions and young Casey's Elland Road career was over due to the injuries he sustained. We would never know how good Casey was, whereas Norman Hunter would become one of the greatest ever players to grace the club.
The stylish defender scored his first Leeds United goal in his seventh appearance. It came from a long range drive in a 3-2 defeat at home Middlesbrough. Although he didn't score too many times, he had the ability to find the net from distance on the odd occasion he ventured within reasonable distance of the opposition penalty area.
Leeds, now parading about in an all white kit which was part of Revie's vision to become a Real Madrid, finished fifth in Hunter's debut season and the following campaign would see the Second Division Championship come to West Yorkshire and Norman was an ever present.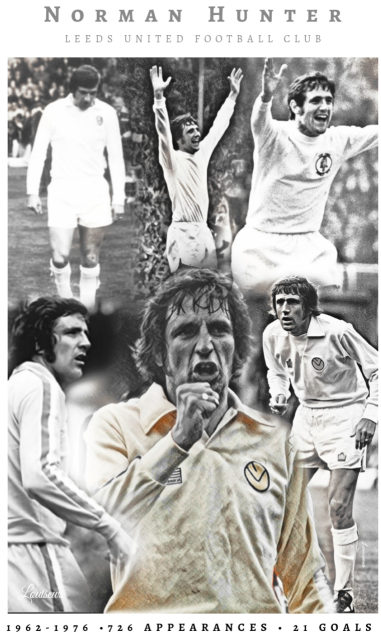 Tribute image by Louise Woodward Styles @MrsLouiseWS
The young squad, superbly marshalled by the experienced figure of Bobby Collins played with no fear. Hunter had formed a formidable partnership with Jack Charlton at the heart of the defence and he missed just one league game during the 1964-65 season as Leeds finished runners-up in the title race and reached the FA Cup Final before losing to Liverpool in extra time.
United had well and truly announced their arrival on the big stage and would enjoy a decade of success in domestic and European football.
Two League Championships were won (1969 and 1974), the FA Cup (1972) and League Cup (1968) were both lifted as was the Inter-Cities Fairs Cup on two occasions (1968 and 1971). Following the title win in 1969, the Charity Shield was also added to the Elland Road trophy cabinet.
In addition, the unassuming centre half helped Leeds to numerous Finals and Semi-Finals which saw some outrageous decisions rob him and his colleagues of further honours. In the league, Revie's superstars did not finish outside the top four over a ten year golden era.
A low point came in 1973 when Hunter received his marching orders in the European Cup Winners Cup Final against Milan in Salonika. Leeds had been left frustrated all night by some of the decisions made by Greek referee Christos Michas and when Norman was hacked down by Milan's Rivera in the final minute, he retaliated. A melee followed and United's number six was sent for a slightly early bath along with Ricardo Sogliano from the Italian outfit. The tactics of the Italians and the performance of the Greek official left the locals in the crowd furious. Further sanctions would follow against Michas but it all left a bitter taste in the mouths of Leeds' players, staff and supporters.
During the 1973-74 season, one in which a record breaking Leeds side lifted their second League title, Hunter was the first winner of the new, prestigious PFA Footballer of the Year award. For Norman, there was no bigger accolade than being voted the best by his fellow professionals.
Steering the Whites to the Championship proved to be Don Revie's final act at Elland Road and the club entered choppy waters when appointing Brian Clough. It's no secret that Hunter did not like the new manager and the feeling was mutual.
After being hard done by in the European Cup Final, Leeds were in a real period of transition and on the 6 October 1976, the legendary figure made his final appearance for United in a 3-1 away win at West Ham before moving to Bristol City.
Whilst plying his trade at Elland Road, Norman received 28 full England caps and was part of the 1966 squad that lifted the World Cup.
Having enjoyed his time at Ashton Gate, Hunter moved to Barnsley where he took up the post of player-manager and he also managed Rotherham United before having a brief spell on Billy Bremner's coaching staff at Elland Road.
Norman Hunter remained a popular figure at Elland Road in various roles including media work and the club honoured the legendary figure by naming a suite in the West Stand in his name.
There was no finer footballing centre half than Norman Hunter. Ferocious in the tackle, his will to win was evident to all as was his ability to bring the ball out of the air and play a cross field ball to one of his team mates. On the odd occasion his passion got the better of him as Francis Lee discovered at the Baseball Ground, an episode that Norman always regretted.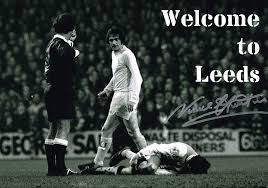 Christened "Bite Yer Legs" by his adoring public, Norman's crunching challenges that left opponents in a heap on the turf were part of his make up but that notoriety will never overshadow the fact that the hard man could play.
A popular story that did the rounds (and it was said of a few tough tacklers of the time) was that Hunter's wife told her friend that Norman had come home from the match with a bad leg. Her friend asked: "Who did it belong to?"
Having being born in 1973 I never saw Norman Hunter play for Leeds United but I revel in television footage, news articles and stories about a man whose tragic passing has left a huge hole in the hearts of football fans of all ages.
Within a week of his passing, Leeds United, in a fantastic move, announced the South Stand will be renamed the "NORMAN HUNTER SOUTH STAND". What a honour for the legendary centre half and his family.
Thanks for the memories Norman and may you rest in peace. You will be sadly missed.