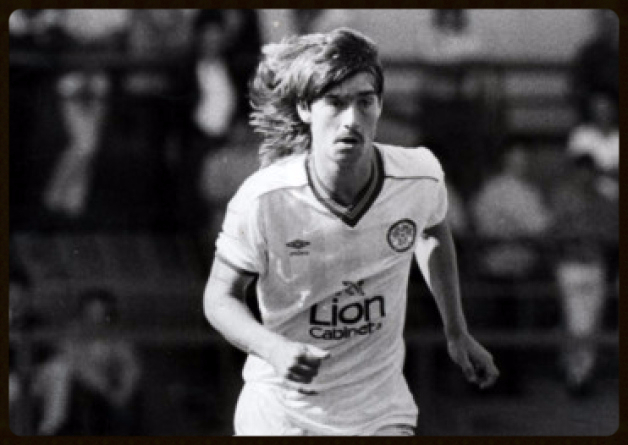 Ask any Leeds fan of a certain age who was their eighties hero prior to Gordon Strachan's arrival, and 90% of the vote will go to John Sheridan, a rebellious free spirit who spent most of the decade carrying United single handed through some choppy waters.
Of the rest, some would probably opt for the likes of stylish keeper Mervyn Day, or Ian Baird, the epitome of a heart-on-the-sleeve number nine who left his mark on many opposition centre half. Sheridan and Baird had departed by the time Howard Wilkinson took Leeds back to the promised land but a less heralded player had left for top flight football long before Wilko's revolution took place. The name Snodin will be a familiar one with most but it was Glynn's brother Ian whose performances in a white shirt ensured he leapt from the Third Division to the First in barely two years.
He arrived in the summer of 1985 from Doncaster Rovers for £200,000. Leeds manager Eddie Gray beat off strong competition from First Division West Bromwich Albion, and eleventh hour bids from Sheffields Wednesday and United for his signature. The signing gave Leeds' fans increased optimism ahead of the new season amidst a summer of uncertainty following the tragic events at St Andrews, Birmingham on the final day of the previous campaign.
There can't be many Doncaster Rovers players that have received England recognition, at any level but Snodin is one that did. Capped four times by his country at under-21 level, the young midfielder had earned some rave reviews playing in a side, with his brother Glynn, managed by a Leeds United legend in Billy Bremner.
The little Scot was like a father figure to Snodin and the emerging talent held his gaffer in very high regard. In the days before players' agents, Billy had informed his star man that both Leeds and West Brom were in for him but the Thrybergh born player claimed that in no way, whatsoever did Bremner influence his decision to spurn the chance of top flight football and move across Yorkshire.
Snodin possessed all the attributes. He was skilful on the ball, strong in the tackle and astonishingly quick, and mixed with the genuine ability to play football, was the necessary ingredient required back then, in that he could handle himself.
Eddie Gray had modelled a talented squad of youthful exuberance, with a spattering of experience. Mervyn Day was the regular custodian, with the promising talents of Denis Irwin, Neil Aspin and Andy Linighan featuring in the back four along with the older head of Gary Hamson. The brilliance of John Sheridan and the tricky Scott Sellars were joined by Snodin in midfield, marshalled by the veteran legend, Peter Lorimer and the diminutive Tommy Wright competed with George McCluskey and Andy Ritchie for a place in the attack alongside Ian Baird.
Despite a sticky start to the season, comprising of three defeats and two draws in the opening five games, Snodin was making a favourable impression. He had struck up an instant friendship with Ian Baird and the two would travel in from the Rotherham area.
"Snod was a class act", Bairdy told me. "He was the fastest thing on two legs and a great lad who would do anything for you."
Leeds slowly began to pick up. A decent run had seen them lose just once in seven games going into a League Cup tie away at Walsall. The first leg, at Elland Road, ended 0-0 but United made short work of their opponents at Fellows Park and waltzed into the Third Round with a 3-0 win, (Snodin scored twice). However, before the following weekend and to the amazement of players and fans, Eddie Gray was relieved of his duties. Snodin had only played 13 times for his new manager and this wasn't how he envisaged it panning out.
When the board turned to Billy Bremner as Gray's replacement, Snodin was reunited with his mentor. The new manager wasted little time in making changes after starting his reign with a disappointing defeat at Barnsley. He ruthlessly ended Peter Lorimer's distinguished Elland Road career and appointed Ian Snodin as his new captain. It was the ultimate compliment and a clear statement as to how high the new manager rated his number four.
A goal away at Wimbledon was a clear display of what Snodin was all about. Racing through the midfield, into the opposing penalty area, he met Andy Ritchie's flick-on to slide the ball past an onrushing Dave Beasant to put Leeds 1-0 up.
Football in 1985-86 was not the fashionable, hysteria creating, money making machine that it is today. Amid the backdrop of tragedies at Valley Parade, St Andrews and Heysel, the crumbling terraces were often used as battlegrounds and football was clearly not on the Prime minister, Margaret Thatcher's agenda. Anybody who wanted to stick the boot into the national game seemed to be given a licence to do so on a regular basis.
Sky TVs millions were still years away, as was the internet, hence no rumour sites or social media. Newspapers, which often preferred to bang the negative drum, would provide very few column inches to any positive football news and on top of all that, the Football League was at war with the BBC and ITV over broadcasting rights. As a result, live domestic football was non-existent in the first half of the 1985-86 campaign. However, despite the lack of football presence across the media outlets, it was clear to everyone connected to Leeds United that, after featuring 41 times and weighing in with seven goals (in all competitions) during his first, and only full season at Leeds, Ian Snodin's stock was rising.
During the summer '86 the eyes of the football world were cast on Mexico and the FIFA World Cup. Meanwhile, back in Yorkshire, Billy Bremner was not interested in the "Hand of God" shit-storm; he was quietly tinkering with his squad in an attempt to challenge for a much needed promotion back to the top flight. Although hamstrung by the clubs financial plight, the signing of Keith Edwards was seen as marquee and the Whites were ready to go again. Optimism was high as the team travelled to Ewood Park to take on much fancied Blackburn Rovers.
Leeds went in a goal to the good at half-time, courtesy of Andy Ritchie but in the second half, a Jimmy Quinn penalty and a Simon Barker goal put Blackburn in charge. Matters were made worse when after clashing with Quinn, Snodin was sent off with four minutes left as the Whites returned empty handed.
Snodin and Baird continued to commute together each morning, joined by new signing John Buckley. The United captain had invested in a brand new white XR3i and the motor was his pride and joy. On one occasion, there was nobody at home to look after Baird's dog, a German shepherd. As a result, he persuaded Snodin that the dog should travel with them in the car. After the training session, Snodin returned to his motor to find that "Rocky" had been chewing away at the seats and headrests, causing major damaging to the interior.
Bairdy admitted that Snodin brushed the matter to one side as "one of those things", the incident showed that the mild mannered character off the field could easily be replaced by a fiery one on the field, as another red card came his way after clashing with Carlton Palmer in a bad tempered affair at The Hawthorns. Palmer was also given his marching orders, as was John Stiles later in the game.
Despite his brushes with the suits at Footballs HQ, Snodin continued to display his talents in front of his adoring public and the powerhouses of 1986, Liverpool and Everton, were monitoring his progress.
Inconsistent displays continued to hamper Leeds and after a dismal 7-2 defeat away at Stoke on the Sunday before Christmas (a game the captain missed due to his dismissal in the Midlands), it was clear that Bremner needed to act – somehow.
Over on Merseyside, in addition to competing at the top of the First Division, Kenny Dalglish went into battle with his enemy across Stanley Park, Howard Kendall, in an attempt to sign one of the hottest properties in the second tier. Times were tense for the Leeds faithful as Snodin's midfield partner and crowd favourite, John Sheridan was strongly linked with Arsenal and Bremner knew that he could ill afford to lose both.
After weeks of speculation, the Leeds United board of Directors accepted bids from both Scouse clubs and the decision was left down to Snodin as to where he would continue his career.
Everton duly won the battle and a cheque for £840,000 was paid into the Elland Road coffers – not only was it a record amount for a departing Leeds United player, it was a huge amount of money for someone that despite his real ability and true promise, in reality had only played 51 games in the Second Division. However, on the flip side, it showed how good Ian Snodin was.
Leeds used the money wisely and Bremner strengthened his squad with key signings. John Sheridan played the leading role in midfield and excelled whilst Ian Baird's goals ignited Leeds' season. The club reached the FA Cup Semi-Final and a fourth place finish saw them qualify for the newly introduced end of season play-offs. Unfortunately, it all ended in tears.
As for Snodin, he endured a tough time on Merseyside due to injuries. However, when he recovered and had a run in the side (ironically at right-back) he was called up for the England squad for a friendly against Greece in February 1989. However, a further injury would rob him of the chance of a full international debut.
Ian Snodin rarely gets mentioned in terms of his Leeds career. Maybe down to the fact he only had 18 months or so at the club. In total, he played (in all competitions) 55 times for the Whites and scored eight goals. However, those of us who stood on the cold concrete terraces watching him ply his trade in LS11 remember a majestic midfield maestro, who possessed the necessary bite whilst conducting the Elland Road orchestra.
There is no doubt in my mind (or that of his friend and colleague, Ian Baird) that in the days of fewer internationals, injuries robbed Ian Snodin of at least 25 England caps – he was that good.
Note: This piece was written by myself and Andy Peterson and featured in volume 30, issue 3 of The Square Ball.