DON REVIE AT LEEDS - THE PLAYER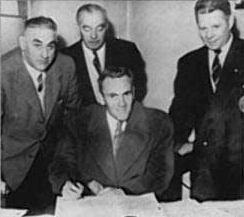 On Friday 28 November 1958, Bill Lambton signed a player who would eventually be appointed as manager and change the fortunes of a club that had risen from the ashes of Leeds City and had bounced between the top two Divisions of English football without ever making a real impact on the top flight.
Don Revie started his senior playing career at Leicester City in 1944 before moves took him to Hull City, Manchester City and Sunderland. He was also capped six times by England, scoring four goals.
Whilst plying his trade at Maine Road, the "Revie Plan" was introduced, a system where Don played the role of a deep lying centre forward. His part in the tactic brought success and in 1955 he was voted the Football Writers Association Footballer of the Year. A further honour came a year later when Revie and City won the FA Cup Final at Wembley by beating Birmingham City 3-1.
Revie left Manchester City to sign for Sunderland but after the club suffered relegation to the Second Division, manager Alan Brown dropped Revie in favour of a youth policy and in September 1958 he rejected an opportunity to join Middlesbrough, his hometown club. Media speculation linked him with a return to Leicester but it was Lambton who won the race for his signature, finally landing a player that Leeds had coveted during his Hull City days.
United were struggling in the First Division, an opening day 4-0 thumping at Bolton Wanderers had set the tone. The first 18 games brought just four wins, Lambton needed some inspiration and moved quickly to pay a £15,000 fee to purchase Don Revie, dubbed "Soccer's Happy Wanderer". Incidentally, the fee meant that a total of £83,000 had been spent on his services and made him Britain's costliest footballer in transfer aggregates.
Revie admitted that the move came out of the blue and told the media: "I was sitting at home watching television on Thursday night when I received a call from Leeds United's acting manager, Bill Lambton. That was about half past eight.
"Mr Lambton said that the clubs had agreed on the fee and the rest was up to me. He asked me to visit Leeds, inspect housing accommodation then give my decision. The rest you know. Everything has happened so fast, I'm still a bit dazed."
The new signing was handed his debut within 24 hours of signing as Leeds faced Newcastle United at Elland Road. He replaced Bobby Forrest in the only change to the team from the previous weeks 4-2 win at Ewood Park against Blackburn Rovers. He made an immediate impact and played his part in an entertaining 3-2 win, providing a through ball for Chris Crowe who found the net to put Leeds 2-1 up after 56 minutes.