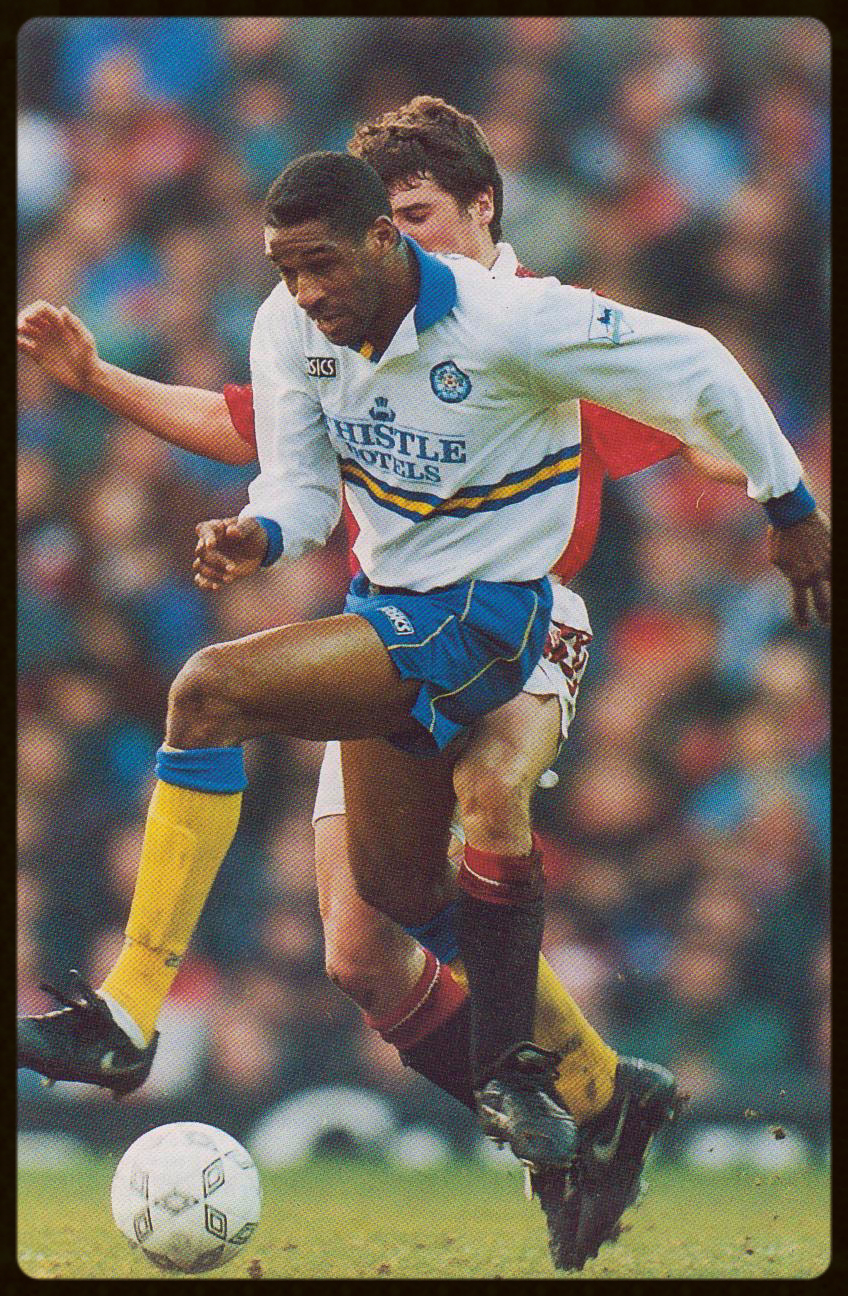 Centre-forward, Brian Deane enjoyed a career which spanned 21 years, saw him play for nine different clubs across three different countries; he had three spells at Sheffield United and two spells across Yorkshire at Elland Road.
Deane was born in Leeds in 1968 and had trials with his hometown club as a 13 year old:
"It didn't work out back then which was one of those things. I loved football as a kid and we lived in the same neighbourhood as Terry Connor and his family so I always looked out for Leeds' results on a Saturday afternoon."
In 1985, it was Doncaster Rovers who gave Deane his big chance in football. He was handed his debut as a 17 year old in the old Third Division by manager Dave Cusack and three years later he signed for Sheffield United where he struck up a lethal partnership with Tony Agana and the pair fired The Blades to successive promotions.
Deane's last season, of his first spell, at Bramall Lane was the 1992-93 season. It was the inaugural Premier League season and the name of Brian Deane will be forever etched in the record books as the scorer of the new competitions first ever goal.
Leeds, the previous season's champions, suffered a torrid campaign. Wilkinson's men failed to win away from home in the league and the manager knew he had to make changes.
As the 1993-94 season approached, Wilkinson brought Brian Deane to the cub to replace the outgoing Lee Chapman and the new man was excited by the challenge presented to him:
"In all honesty I never asked to leave Sheffield United, I felt that I was part of the furniture, but the club probably needed the money and the deal was too good for them to turn down.
"It is every lads dream to play for his hometown club, I was no different and couldn't wait to get started. I had been linked with moves here and there but Aston Villa and Leeds were really keen. I had previously rejected a transfer to Crystal Palace who had come in for me when they sold Ian Wright to Arsenal."
The big striker hit the ground running with a late equaliser on his debut to earn Leeds a point in the season's opener at Maine Road – a ground where, in the previous two campaigns, they had been on the receiving end of 4-0 defeats:
"I was delighted to score on my debut and it lifted some of the pressure on me but in all honesty I found that first season tough going and I didn't hit the net as often as I would have liked.
"When playing for Sheffield United the lads would play the ball up to me at every opportunity whereas at Leeds, the midfield four liked to keep possession, pass the ball around and get it out wide. It took me a while to adapt."
Another of Howard Wilkinson's big money signings was also struggling in West Yorkshire but it was he who was on hand to lift Deane's spirits and keep him going:
"I can't speak highly enough of David Rocastle, he was fantastic for me. 'Rocky' kept me going at times and helped me through a difficult period. It was a real privilege to be around the man and despite his own frustrations of not being in the side, he always had a smile on his face. He was a shining light around the club and nobody had a bad word for him."
After opening his account on his debut, 'Deano' found the net in a 2-0 win at Southampton as Leeds broke their away day hoodoo, but it wasn't until the 6th of November that he bagged his first at Elland Road when he opened the scoring in a 4-1 rout of Chelsea.
Further goals followed, he bagged three in the next four games but despite being a permanent fixture in the side, the goals dried up and he had to wait until the middle of March for his next one:
"Ironically it came at the Lane. I put us 2-0 up that afternoon but we couldn't hold on and the game ended in a 2-2 draw. It was nice to go back there and score but more of a relief that the drought was over.
"I ended the season well and scored twice at Swindon but the struggles I had endured made me more determined to return in August and try and make a bigger impact."
It was during the following season, just into the New Year, that Howard Wilkinson brought another striker to the club. The impact he made was extraordinary and in order to help accommodate the powerful Ghanaian, Tony Yeboah, Wilko asked Deane to play a wide role:
"I didn't mind, I was happy to be playing and it was a real pleasure to play with Tony. He was world class and at times defenders could not get near him. On his day he was the best striker in the world. Look at the goals he scored whilst at Leeds – the ones against Liverpool and Wimbledon were out of this world and obviously the hat-trick in Monaco.
"We operated a different system and I was no longer playing with my back to goal, I was looking at the ball ahead of me.
"I had some great strike partners during my career. Tony Agana and I struck up an unbelievable partnership. There was Rod Wallace and Nuno Gomes but Tony's right up there with Alan Boksic as the best that I ever played alongside.
"How you saw him on a Saturday afternoon is how he was on a Thursday morning in training, he was immense and had a real calmness in front of goal."
One of Brian's finest moments in a Leeds shirt came at the very end of the season when he scored a brilliant solo goal at White Hart Lane. The strike ensured a 1-1 draw which meant that Leeds qualified for a place in the UEFA Cup:
"I'll never forget that afternoon and that goal. Of all the goals I scored in my career that one ranks as one of my favourites.
"During the season I realised that I had stopped doing some of the things that had made me the player that I was so I got my head down and worked hard. I looked at the goal as my reward; it was the icing on the cake.
"Everybody had worked hard to achieve that fifth place finish. We had a very happy bus going back North that evening, the lads were singing, the champagne was flowing and we even got a smile out of Wilko!"
The following season was very different and despite a good start, Leeds' form dipped alarmingly and the club suffered a heavy Wembley defeat in the League Cup Final against Aston Villa. It would prove to be Howard Wilkinson's last full season as manager but Brian does remember one game from the campaign:
"We beat Manchester United at home on Christmas Eve. We could've competed with any side that day and we fully deserved the 3-1 win – everything we worked at on the training ground came off and it gave the fans a very happy Christmas.
"Tomas Brolin had arrived at the club and the fact that he struggled to make an impact has been widely documented before now but he was immense that afternoon and his star qualities shone through.
"He was a good lad and maybe the game in England was too quick for him but it was a shame that things didn't work out."
Brian left Leeds at the end of the 1996-97 season. It was a season of transition under George Graham but he was a manager who the centre forward had great respect for:
"I suffered a rather painful injury against Derby County on the first day of the season and by the time I had returned to the side, Howard had been sacked and George had been appointed as his replacement.
"I got on well with George; he was old school, a disciplinarian. He had no favourites but gave me a lot of responsibility. He would often tell me that he was looking for a big performance from me and I thrived on that.
"At the end of the season, I decided to move on, Leeds had offered me a new deal but I didn't think it reflected my true worth. I had offers from abroad, which I considered, but decided to return to Bramall Lane.
"I loved my time at Leeds, we had some great characters. I'll never forget an incident in Marbella whilst we were over there on an end of season trip and the Liverpool lads were there at the same time.
"Gary Kelly had found a cheeseburger on the street near Lineker's Bar and was stood there holding it in his hand. Jamie Redknapp came strolling past and asked 'Kells' for a bite of his burger to which he didn't hesitate. Redknapp took a huge bite and commented how nice it was before he was informed, by Kelly, that he'd just picked it up off the floor!
"I got on well with the lads. Rod Wallace was my best mate at the club and I must mention others like Chris Fairclough, John Lukic, Carlton Palmer, Tony Dorigo, Lucas Radebe, Phil Masinga, Noel Whelan, Kevin Sharp and Mark Tinkler."
After leaving Leeds for Sheffield United, 'Deano' went on to play for Benfica, Middlesbrough, Leicester City and West Ham United before returning to LS11 in 2004:
"I was out of contract at Upton Park and Leeds were rebuilding due to the financial problems that had culminated in relegation.
"Kevin Blackwell offered me a deal to return and I relished the opportunity. I felt I could make a real impact and help the younger, less experienced lads but in all honesty it didn't work out as I had hoped.
"The lads stuck together and gave their all, but admittedly, some found it very difficult and couldn't handle the situation. The expectation was huge and despite the trauma's there were still 30,000 coming through the turnstiles.
'Kells' was still there and he and Michael Duberry led by example. Gary was Leeds through and through and he had the respect of everybody inside the place.
When people talk of Brian Deane and his second spell at Leeds, one game will always get mentioned. On the 20th of November 2004, Queens Park Rangers travelled north and the big man had a field day:
"It was fantastic to be honest, an afternoon I'll never forget. To score a hat-trick at Elland Road was amazing but to get four was something else. My only regret is that I didn't take the penalty which David Healy missed!
"I was on the move again before the end of the season. I felt that Blackwell had frozen me out and there were a lot of issues at the club. I was 36 years of age and not looking for pats on the back, I just wanted a bit of respect. Mick McCarthy who was Sunderland manager came in for me and gave me that."
Thank you to Brian Deane for his time and giving me the opportunity to write this article.