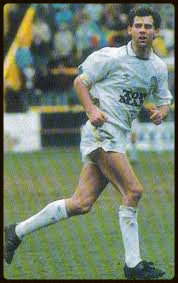 In the summer of 1989 Leeds United showed their intentions to end a barren spell in the wilderness of English footballs second tier, a Division they had been in since relegation from the top flight in May 1982.
Having secured the services of Gordon Strachan and Chris Fairclough towards the end of the previous season, Howard Wilkinson was backed in the transfer market like no other Leeds United manager had ever been backed before.
The media circus centred around the arrivals of England international defender Mel Sterland from Glasgow Rangers, the much sought after John Hendrie from Newcastle United and the much maligned, controversial figure of Vinnie Jones from Wimbledon.
However, one man who formed part of the 'Magnificent Seven' entered Elland Road almost unnoticed. That man, Jim Beglin, had seen it and done at his previous club Liverpool before a devastating injury left his career in tatters:
"I broke my leg in a Merseyside derby at Goodison Park and I was not expected to recover. However, I was focused and determined to work my way back to fitness. Eventually I returned, playing in the reserves at Anfield but I seemed to suffer one injury after another, including a cartilage tear that ultimately finished my career.
"My time at Liverpool, where I had won the much coveted league and cup double, was coming to an end and Kenny Dalglish was fantastic in negotiating a free transfer. I had many options, including offers from abroad, and after playing over in Ireland in a testimonial match, the Ipswich manager John Duncan spoke to me.
"Ronnie Moran advised me that as I was trying to rebuild my career, a nice steady spell in the quiet county of Suffolk would suit me and although Middlesbrough also offered me an opportunity, I jumped at the chance to sign for Leeds United once I knew of Howard Wilkinson's interest.
"The ambition that Leeds was showing was incredible and Wilko sold it to me, I was desperate to prove people wrong, although I knew there was some hard work ahead.
"Howard knew he was taking a risk with me and he arranged a session on Fullerton Park. We played a five-a-side in which I showed I was comfortable on the ball and I even chipped in with a few goals. Afterwards he held me back for a vigorous routine of running. I was absolutely knackered. My legs and lungs had gone. He told me to pop into the referee's room, have a shower then report to his office to continue the negotiations.
"He had worked me so hard in that session that I thought I was going to black-out, I had to have a lie down and pray I wouldn't get caught – luckily I didn't and I was delighted to eventually put pen to paper and sign for Leeds."
Jim admits he needed to get fit, have a good run of games, build up his strength and push on with a club desperate for promotion. However, things soon started to go wrong:
"Two or three days into pre-season I had a coming together with reserve striker Peter Maguire and my left knee went. I knew I needed to be up to speed so I tried to ignore it and carry on.
"I drove home after training and my knee wasn't right so when I returned to the club the following day I reported it. I was diagnosed with an injury that is common to marathon runners but as the season approached it soon settled down. Howard thought I would be fine and he named me in the squad for the opening day fixture at Newcastle.
"Gary Williams was set to start the game at left back but he suffered a knock in training on the eve of the game so I was thrown in. I knew deep down that I wasn't ready and it's fair to say that I suffered a torrid afternoon.
"Newcastle had obviously done their homework and knew that I'd not had much of a pre-season. Every opportunity they had, they got the ball out to John Gallacher on the wing. They had targeted me and the gamble to play me failed as we got soundly beaten 5-2. To top it off, I gave away a penalty which Micky Quinn dispatched beyond Mervyn Day for one of his four goals."
Jim was left out for the following game and the knee injury flared up again. In a bid to regain fitness, he was loaned out to Plymouth Argyle before returning to the Leeds side as a substitute on the 13th of January away at Blackburn Rovers:
"Mel Sterland had suffered an injury and I replaced him at right back, not my preferred position, but I was happy to be back in. We won the game 2-1 and afterwards Wilko told the media that Jim Beglin would finally feel like a Leeds player. He was right and between then and the end of the season, I started all but two league games, virtually nailing down the left back position."
"Leeds is a big club with a big history and we were desperate to give the fans the promotion they craved. Everywhere we went the fans followed in their numbers and the atmosphere they created was phenomenal.
"I have played in some amazing stadiums across the world and without doubt Elland Road was among the noisiest I had witnessed. It was incredible and although it spurred us on, it also brought nervousness as we almost limped over the line to win the title."
The final home game of that glorious, never to be forgotten campaign was against Leicester City and Jim retains fond memories:
"I was the one who stayed back when we had a corner or a free kick around the opposition's penalty area. David Kelly was up front for Leicester and he would be hanging around up top. He turned to me and said, 'Bloody hell – the noise!'
The atmosphere was electric and Leeds knew they needed to win the game with Sheffield United and Newcastle United breathing down their necks. Two teams would be promoted with the side finishing third facing the lottery of the play-offs:
"Mel Sterland gave us the lead and the game was heading for a draw after Gary McAllister had equalised but Gordon Strachan had other ideas when he fired a tremendous shot into the back of the net for a late winner.
"Gordon was fantastic all season and without being disrespectful to Mick Hennigan, Gordon was almost like Wilko's assistant.
"I remember a game at the start of April against Bradford City at home. We played them off the park and led 1-0 but we should've put the game to bed. Late on they got a free kick which was taken from the wrong position and when the ball was hammered up field, they eventually won a penalty from which they got an undeserved equaliser.
"Strachan was raging. He got in the dressing room and was shouting and screaming about the referee not ensuring that the free-kick had been taken from the right place. He then started to lay into the back four and I wasn't having it. I felt he was mouthing off for the sake of it and I jumped up and told him so. We had to be separated; I completely lost it with him.
"These incidents happen in dressing rooms all of the time and the following day we both apologised and the spat was instantly forgotten about.
"Gordon was inspirational and without doubts the best player at the club. He made such an impact and was idolised by the fans, rightly so."
The late drama against Leicester ensured that Leeds would go into the final game in charge of their own destiny. A win at Bournemouth would mean promotion and Jim admits that Wilkinson played a blinder in his preparation:
"We stayed in New Forest in Hampshire during the week leading up to the game. It was quiet, smooth and easy. We had no reported injuries and everyone was nice and relaxed. To go there was a masterstroke."
"However, the night before the game we were in a hotel in Poole, in Dorset, right by the docks and I was rooming with Chris Kamara.
"During the night we were awoken by a voice booming from a tannoy system. People were being ordered to get off a boat. I said to Kamara that I bet they're Leeds fans and sure enough they were. Chris went to the window, opened the curtains and was spotted by the masses of supporters who started singing non-stop! We didn't get much sleep that night."
Leeds won the game 1-0 thanks to a classic Lee Chapman header from Chris Kamara's pin-point cross and it is a day that Jim and everyone involved will never forget:
"We were comfortable all afternoon, it was a very solid performance and we got the job done. It was some journey back to Yorkshire.
"John Helm interviewed me after the final whistle and told me that the afternoon had been a far cry from the opening day at St James Park and he was spot on.
"I thought that the second half of the season was a springboard and I would kick on and enjoy my football back in the top flight with Leeds United.
"Unfortunately, I suffered yet another knee injury whilst representing the Republic of Ireland in a warm up game as I looked to earn a place in the squad for Italia 90.
"I soon realised that I would never get back to being an efficient footballer and I only made one further appearance for Leeds, in the Zenith Data Systems Cup at Wolves."
Jim Beglin retired from football at the tender age of 27:
"I started to work towards my coaching badges along with Simon Grayson, Mickey Thomas and Peter Reid but an opportunity came via the way of media work. I enjoyed the experience and that is the path I have taken. I thoroughly enjoy the job and I have had the privilege of co-commentating on some fantastic football matches all over the world. I consider myself very fortunate."
Like many ex-players, Jim Beglin is saddened by the current state of the club and whilst he acknowledges it could be a long road, he hopes the good times return:
"It is a sad state of affairs, the club seems to lurch from one crisis to another and it seems to be stuck in limbo. I meet up with ex team mates now and again and recently during a chat with John Stiles, we agreed the current situation is a travesty."
Looking back on his relatively short Leeds United career, Jim admits it was an absolute pleasure:
"I couldn't have joined a better club when I left Liverpool. I had my set-backs but I gave my all. I wanted to get 100% fit but never quite managed it.
"I am proud of what we achieved at Leeds that season. I could see what promotion meant to the Leeds fans and I am lucky to be able to say I played a part in the success we shared. The supporters were unbelievable and their passion was off the scale."
Thank you to Jim Beglin for giving me his time and the opportunity to write this article.