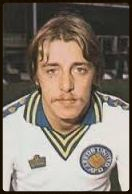 By his own admission, John Hawley is not the greatest centre forward ever to wear the number nine shirt at Elland Road, but nobody can argue with his goal scoring record during his brief time with Leeds United.
John was born in Patrington, East Yorkshire and after playing local league football he signed for Hull City in 1972. Due to the fact he was helping out with the family business, he did not turn professional until August 1976.
Jimmy Armfield signed John in May 1978 despite the marksman having a broken bone in his foot but he was relieved of his duties before the new season started and Hawley was left bemused:
"It was quite strange not to play for the manager that had signed me. I had been on holiday and for the first time in two weeks I bought a newspaper and read that he'd been sacked.
"I had no idea what was in store and when I reported for pre-season training I wasn't sure whether I would be in the first team dressing room or in with the reserves.
"Maurice Lindley was the caretaker manager and thankfully he put me in with the first team. On that first day I sat there looking around and could see the likes of Paul Madeley, Eddie Gray, Peter Lorimer, Tony Currie and Trevor Cherry. I thought to myself, 'What the hell am I doing in here.'
It was a difficult time for Leeds United with the manager situation and a strange time for the new striker:
"I had been signed by Jimmy Armfield, I made my debut under Maurice Lindley, my second game was under Jock Stein and within 6 weeks he had gone and I was playing for Jimmy Adamson!"
Hawley made his debut in the season's opener at Highbury in a game which Leeds claimed a point in a 2-2 draw but John admits it wasn't his day:
"I was clean through twice and fell over the ball. The TV cameras were there but thankfully they didn't show either incident on the highlights program.
"Tony Currie scored a superb goal and afterwards he admitted he had to shoot because he looked up and there was only me in the box!"
The 1978-79 season saw John Hawley score 16 league goals in 29 starts, an impressive record by anybody's standards and the first of those goals came in a 3-0 win against Chelsea at Stamford Bridge on the 2nd of September:
"It is a long time ago now and to be honest I don't remember much about that game but it would have been nice to get off the mark."
John got on well with his colleagues and although Paul Hart was a close mate he often roomed with Eddie Gray and admits that due to the uncertainty with the manager situation, the players stuck together and formed a close knit unit:
"I missed a penalty in one game and Paul Hart still reminds me of it when I see him. He claims it was the worst penalty he's ever seen and he's been involved in the game forever.
"I enjoyed myself at Elland Road, the fans were good to me and it was a great adventure."
Leeds United finished fifth that season and were one of only two clubs to get anything from Anfield when Hawley scored against the side that would be crowned League Champions, in a 1-1 draw:
"We did well in the league and to lose in the semi-final of the League Cup was heart-breaking. We were two-nil up in the first leg against Southampton and should have got to Wembley."
John's last goal for Leeds came on the 25th of April in a 5-1 win over Bolton Wanderers and after just one appearance the following season; he was on the move:
"I wanted to stay but Jimmy Adamson didn't fancy me as a player and I joined Sunderland in a deal which saw Wayne Entwistle move the other way."
Following his spell at Roker Park, John played for Arsenal and then had spells on loan at Leyton Orient and Hull City before playing for Happy Valley in Hong Kong, Bradford City and Scunthorpe United.
John played for Bradford against Lincoln City on that terrible day in May 1985 when 56 supporters lost their lives in the devastating fire.
These days John works in the family business, Hawley's Auctioneers Ltd and looks back with good memories from his time at Leeds:
"To play alongside the calibre of players I did was unbelievable. Paul Madeley made it look so easy, he strolled through games, I never once saw him sweat and in training it was impossible to get the ball off Eddie Gray. He was so good it was unreal."
Thank you to John Hawley for giving me his time and the opportunity to write this article.