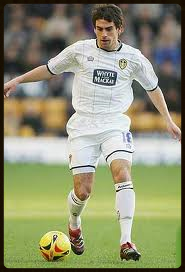 When Simon Walton pulled on a Leeds shirt for his competitive debut against Derby County on the 7th of August 2004, the youngster fulfilled a boyhood dream to play for his hometown club.
As a kid, Walton and his family travelled all over the country watching Leeds United's international stars ply their trade at the top end of the Premier League. He joined the club as a ten year old and worked his way through the academies into the first team:
"Leeds had hit hard times and the problems were headline news as its spell in the Premier League came to an abrupt end. I witnessed the issues first hand and although I should've relished the fact I was travelling with the first team squad to the last few away games of the 2003-04 season, the circumstances meant it was difficult to enjoy the experiences."
When relegation was all but confirmed with a crushing defeat at Bolton Wanderers, Leeds United began planning for life in the second tier and a young Simon Walton was very much part of those plans:
"Pre-season was crazy. Players came in and went out on a daily basis. The place was full of trialists and due to the fact there were very few senior players left, eleven kids from the youth team were brought in to make the numbers up. Luckily, I was one of those."
The young midfielder made a fantastic impression on the coaching staff and after playing on the Friday in a friendly away at Oldham Athletic which ended 0-0, he received the thrilling news that he would be involved on the Sunday at home to Valencia:
"It was a nice surprise and a proud moment – all my family were present and I could not wait to get out there and show the fans what I could do."
Leeds held the Spanish outfit to a 2-2 draw after coming back from 2-0 down and it was a day Simon Walton will never forget:
"In the dressing room prior to the game, Kevin Blackwell asked us who fancied taking a penalty, should we be awarded one. I had taken them in the youth team so shouted, "I'll have it."
Ten minutes into the second half, Julian Joachim was brought down and the referee pointed to the spot:
"Gary Kelly picked the ball up and gave it straight to me. I put it down and confidently scored. It was surreal, friendly or not, I had scored for Leeds United at Elland Road at the Kop end."
However, the youngster's day was soured when, in the 71st minute, he received his marching orders for a second booking:
"I hold my hands up and admit they were both bookings but due to the fact it was a friendly, I was shocked when he showed the red card. Normally in those games, the ref will approach the bench and order that the offender be substituted."
Walton left the field to a standing ovation and he recalls his manager telling him that he needs to learn fast and calm down a touch.
Thankfully for the midfielder, the club somehow managed to persuade the authorities that the subsequent ban should be served at youth level and although there was a nervous wait for confirmation, Simon Walton was free to make his debut when the season got underway against Derby County:
"It was a long wait and the manager had set two teams up in training as he planned for the game during the week. Thankfully on the Friday, the communication came through and I was all set for my league debut.
"I was young, raw and confident. I had worked hard for the opportunity and I was determined to take it. The game was on Sky and nobody outside of the squad knew what to expect. There were, myself included, seven debutants and Derby were strongly fancied for promotion so it was fantastic to get off to a good start and win the game thanks to a superb strike from Frazer Richardson."
Walton's debut lasted 65 minutes until he was replaced by a man he idolised – Lucas Radebe:
"It was another surreal moment. My bedroom wall was once covered in posters of Lucas and his was the name on the back of my replica shirts so it was strange that he was replacing me midway through the second half."
Leeds' start to the season came down to earth with a bump in the following game when Blackwell's side were beaten at Gillingham:
"That was a real eye-opener. In truth, we were bullied that night and I didn't have the best of games before being replaced by Steve Guppy."
Following that defeat at The Priestfield Stadium, the youngster found himself on the bench but he was determined to get his head down, work hard and force his way back in and that's exactly what he did and on the 19th of October, he scored his first league goal:
"We played Reading away and they were going well. I managed to put us 1-0 up after about 30 seconds but unfortunately, my Dad who had gone down there on the train, had been delayed and he missed the kick off and my goal. He was devastated.
"I couldn't believe I had scored, even though I have to admit, it went in off my shoulder. The ball hit the net at the opposite end of the ground to where the Leeds fans were housed and although I tried running the length of the field to celebrate in front of them, I was wrestled to the ground by the lads near the half way line."
Walton scored three times for Leeds and he openly admits he treasures the end of season review DVD and looks back at those times with a tremendous amount of pride.
For the club and everyone connected, it was a season of transition and although many players came and went, the manager was desperate for some sort of stability:
"It's a classic cliché, but we took it one game at a time. We had belief in the ranks and although some people were tipping us to go down, that was never going to happen, although admittedly the season petered out amongst a series of injuries to senior players."
Walton's season ended on the 23rd of April at home to Ipswich Town when just two minutes after replacing Gylfi Einarsson, he himself was replaced by Jermaine Wright:
"I had been away with the England under-19s despite suffering with hamstring trouble. I returned to Leeds and made the bench against Ipswich but I felt it go again when I went up for a header just a couple of minutes after coming on."
For Simon Walton it had been an incredible season and the scouts from the Premier League had been flocking to see him display his talents:
"I knew there was interest from Liverpool, Everton, Tottenham Hotspur and Charlton Athletic. In fact, Tottenham tried to take me down there in a joint deal when they signed Aaron Lennon but I was still young, a Leeds fanatic and I didn't want to go."
As a result of the hamstring problems, the midfielder missed the majority of pre-season training, played no part in any of the friendlies and as a result found it very difficult to work his way back in as the 2005-06 season got underway:
"The lads were going well and the manager had spent a few quid and brought in a bit of quality. I worked my way to fitness but received a red card playing for the reserves and the authorities hit me with a five match ban.
"I started my first game of the season on the 3rd of December against Leicester City and despite getting the man of the match award, I was left out the following week and I wasn't best pleased."
A couple of weeks later, Kevin Blackwell reinstated Walton to the side in an unfamiliar right-back role, away at Wolverhampton Wanderers but he received a red card in the 82nd minute following two bookings:
"I have to admit, the second one was harsh and I was very disappointed to be facing another ban having just got back in the side."
After his dismissal at Molineux, Simon Walton made just one more start for Leeds United and the summer saw him move on, much against his wishes:
"I never got going in the 2005-06 season and as a result a couple of clubs had cooled their interest somewhat and Leeds was busy putting a new deal on the table for me to sign. However, before I had chance to pick a pen up, the offer was withdrawn.
"There was no real hurry as I still had two years remaining on my existing contract but a day or so before the Play Off Final against Watford, I was informed that if the club failed to win the game, I would be sold in a bid to balance the books.
"I was determined to stay but I was told in no uncertain terms of the situation and after the disastrous defeat at the Millennium Stadium, I was on my way to London to sign for Charlton.
"Hindsight is a wonderful thing but looking back that was the wrong move. Although Charlton were established in the top flight and had just qualified for Europe, things didn't work out. However, what hurt more was the noise coming out of Elland Road and a lot was said about me which wasn't true. It all left a bitter taste in my mouth."
As well as Leeds and Charlton, Walton turned out for Queens Park Rangers, Plymouth Argyle, Hartlepool United, Stevenage and Crawley Town in addition to loan spells at Ipswich Town, Cardiff City, Hull City, Blackpool, Crewe Alexandra and Sheffield United.
Upon leaving Crawley, he returned north and after spells at Garforth Town and Guiseley, he is back down south playing for Sutton United, coached by ex Leeds United centre-forward, Ian Baird, and going very well in the National League:
"I'm enjoying my football down at Gander Green Lane and often talk about Leeds with Bairdy. As soon as the final whistle goes and we get in the dressing room, I'm looking at my phone to see the Leeds result.
"I get to as many Leeds games as is possible and I thoroughly enjoyed my time there. Nobody can take away the fact that I played for Leeds United."
When asked about the best players at the club during his time, Simon didn't hesitate in naming Lucas Radebe and Gary Kelly:
"The pair of them are Leeds United legends. They were great with me and helped me a lot. I see Kells now and again and he's a top bloke."
Thank you to Simon Walton for giving me his time and the opportunity to write this article.