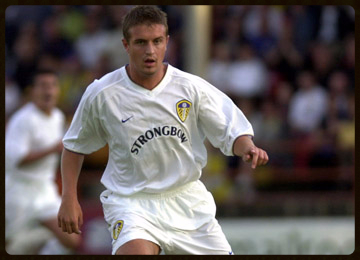 Republic of Ireland international midfielder Stephen McPhail witnessed it all at Leeds United and to this day the club holds a special place in his heart.
Born in London in 1979, McPhail was brought up in the cities of New York and Dublin. From the age of 10 he played football for Home Farm in Ireland and he soon had the scouts flocking to watch him:
"I had many offers as a youngster but following trials at Nottingham Forest and Arsenal, I was invited to spend a week at Leeds under the watchful eyes of Paul Hart and Eddie Gray. I enjoyed it in Yorkshire and felt comfortable.
"Paul Hart then travelled over to Dublin to ask me to sign for the club, which I did on my 15th birthday."
McPhail admits that a huge factor in his decision to sign for Leeds United was the Irish connection:
"It was tough leaving home and saying goodbye at the airport but knowing that Gary Kelly and Ian Harte were at the club made things easier. In addition, when I flew over to start my apprenticeship I was joined by Nicky Byrne, Alan Maybury and Damien Lynch, we all started at the same time and the fact there was so many Irish lads helped me settle in."
"The coaching staff did all they could for us. Paul Hart and Eddie Gray were fantastic; they knew how to treat the younger lads and both remain a big influence on me to this day. Also, the manager at the time, Howard Wilkinson, showed a huge interest in the apprentices and was keen to monitor our development."
In 1996/97 Stephen McPhail and his young team mates lifted the FA Youth Cup by beating Crystal Palace over two legs. It was the second time that Leeds had won the prize in the 1990s:
"It was brilliant to win the Youth Cup, that is the ultimate honour for every apprentice and we certainly enjoyed the moment."
Paul Robinson kept goal in both legs of the final, Alan Maybury, Harry Kewell, Jonathan Woodgate, Wesley Boyle, Matthew Jones, Lee Matthews, Tommy Knarvik and Stephen himself would all go on and represent the first team:
"You look at the lads that won the Youth Cup in 93, they were great players but for some reason they never made a huge impact at Leeds and I think the club learnt some lessons there and it was different for our group."
McPhail acknowledges that life as apprentice back then was a world apart compared to the life that today's apprentice experiences and whilst they had to knuckle down and work hard, they did have some enjoyable times:
"We would be in at 8am and wouldn't leave until 6pm. We had jobs to do around the ground before going out to training. We would have to clean the toilets and other areas. Paul Hart was meticulous and if he found any dirt or dust we would have to start again.
"Also, we would have to clean the first team's boots and we were each given two players to look after, I was allocated Gary Speed and Mark Tinkler. They were great lads and I still find it terribly hard to believe that Speedo is no longer with us."
McPhail continued to impress during his second year but he admits he had to carry out extra duties off the field:
"We would be asked to keep the first year pro's in check and we would inspect their jobs before the coaches did. Warren Feeney had joined the club, he was a good lad but he was very chirpy, always answering back and having the last word.
"Any apprentice caught doing anything untoward would be summoned to 'court' and appropriate punishment would be dished out.
"We were training at Thorp Arch even though there was lots of building work going on. We'd had enough of Warren and it was decided that he would be punished by the 'court'.
"We asked the builders if we could borrow a cement mixer over lunchtime, to which they agreed. Feeney was bundled into it and was sent spinning round, screaming like a girl. When he came out he was covered in cement. It did the job and quietened him down for a while."
After some impressive displays for the reserves, Stephen McPhail made his Leeds United debut as a substitute on the 7th of February 1998 away at Leicester City and went on to make three more appearances from the bench before the curtain came down on the campaign.
The most memorable of those came at Derby County's Pride Park when Leeds ran out emphatic 5-0 winners in front of the Sky TV cameras. With the Whites leading 4-0, McPhail entered the field of play in the 70th minute and immediately he picked out a stunning pass to set Jimmy Flloyd Hasselbaink free and the Dutchman buried his shot for the final goal of the afternoon:
"On the day before the Leicester away game, I knew I was in the squad and although I was naturally delighted, I was nervous. You look around the dressing room at the star names and you realise that more is expected of you and I felt that I was away from my comfort zone. Gary Kelly was brilliant with me and him more than anyone helped me settle in and feel part of the set up.
"The ball I put through for Jimmy at Derby was widely talked about and it made me realise that I had a chance of performing well in the Premier League, it raised my confidence levels but to be honest, I saw Jimmy make his run and I played it where he would've wanted it and he did the rest to cap off a fantastic performance from the lads."
Early on during the following season, George Graham, the man who handed McPhail his league debut, departed Elland Road to return to North London to manage Tottenham Hotspur and that came as a shock to the players:
"We didn't think he would go, especially with his strong Arsenal connections. It was a huge blow when he left and when any manager leaves, players go through a period of uncertainty.
"There is no doubt that George improved me as a player. Every Tuesday and Thursday afternoon he would have us on the training field working on defensive drills. It was frustrating but necessary and it was clear to see that those sessions helped us all."
Due to the previous seasons fourth place finish, Leeds had qualified for the UEFA Cup and McPhail would taste European club football for the first time when he was selected to start the game away in Rome in the second round:
"What an experience that was! I was in the hotel on the night before the game not knowing if I would be involved as David O'Leary didn't name the side until the morning of the game,
"I woke up, had breakfast and saw the team sheet. I was in the starting line up and thought this is unreal. The whole experience passed by so quickly but I remember the Olympic Stadium having the longest tunnel in the world and seeing the likes of Totti lining up against us."
The European campaign would end in tragic circumstances when Leeds visited Istanbul for a semi-final clash with Galatasaray:
"It was heartbreaking and that game should never have been played. At the end of the day, a game of football was the last thing on our minds and the result was irrelevant.
"Something is terribly wrong when two young men go to a football match and don't return home. We met the families of Chris and Kevin before we played Arsenal at Elland Road. It was a truly emotional occasion and both sets of players laid flowers prior to kick off."
Whilst speaking to Stephen about the tragedy, I could sense a change in his tone and he pointed out that he is still deeply affected by what happened over in Turkey and like all of us, he will never forget the memory of Christopher Loftus and Kevin Speight.
The following season, Stephen established himself in the side as Leeds qualified for the Champions League. He started 23 of the 38 Premier League games and his finest moment came on the 19th of December at Stamford Bridge:
"We won 2-0 that day, in front of the cameras and I was lucky enough to grab both goals, my first goals for the club.
"The first one came when I was on hand to place a shot into the back of the net following a pass from Lee Bowyer. All the lads dived on me and Gary Kelly came running over and dived over everyone who was laid on the floor.
"The second was a free-kick which I put across the box and it evaded everyone before finding its way into the bottom corner. I didn't score too many goals so I certainly enjoyed those."
Unfortunately for Stephen, he missed the majority of the 2000/01 campaign through injury and from then on it was all downhill as one problem after another seemed to hit the club:
"There were problems and it's well documented that the manager started to lose the dressing room, although it is hard to keep a big squad happy and some of the stuff thrown at David O'Leary was unfair.
"The clubs financial problems started to unfold and it was devastating to see the demise. Slowly, but surely, one by one, the lads who you had come through the system with started to leave. It was hard to stomach."
It all came to a head in 2003/04 when the club suffered relegation to the Championship and almost 11 years later, Leeds United have not been able to recover:
"The club became a circus and the dressing room was an awful place to be. We should have had enough quality to stay up but we didn't. There was no team spirit and the whole situation was terrible."
Stephen moved on that summer when he signed for Barnsley on a free. He spent a couple of seasons there and there was even talk of a move back to Elland Road:
"I had tentative talks with a few people at Leeds but I knew the place wouldn't be the same and as a family we decided we needed a new challenge and had to leave Yorkshire."
Cardiff City was the midfielder's next destination before a short spell at Sheffield Wednesday after which Stephen returned to Ireland:
"Leeds United holds a special place in my heart. Michelle, my wife, and I loved it there and Leeds is the first result I look out for. Saying my goodbyes on my final day at Elland Road was very difficult but I had to dust myself down and get on with it."
I asked Stephen who he considered to be the best player that he played alongside during his time at Leeds United and he had no hesitation in telling me that it was David Batty:
"Batts is a true legend, the best all round player I have ever played with. He had everything in his locker and he was down to earth and straight forward."
Thank you to Stephen McPhail for his time and giving me the opportunity to write this article.