He wore the white shirt
Mark Tinkler
The latest article in a feature where I speak to ex Leeds players about their time at Elland Road.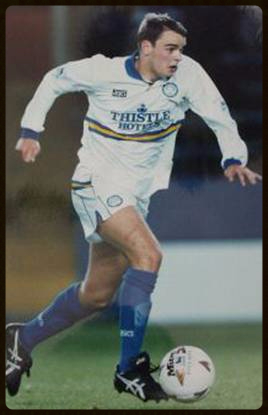 A young midfielder who had represented England at various youth levels and had helped Leeds United to glory in the FA Youth Cup saw a promising Elland Road career blighted by an unfortunate injury.
Mark Tinkler was born in Bishop Auckland in October 1974 and was developing his football talents from an early age:
"I always had a ball at my feet and was playing for the junior school team at 6 years of age. My mates and I would kick a ball about until the street lights came on and my Mam would order me indoors."
From junior school football, Tinkler progressed to play for Spennymoor Comprehensive School and the Durham county side before receiving the ultimate honour when he was selected to play for the England Schoolboys, even captaining the side on five occasions and clubs across the country were soon keen to sign the promising youngster:
"The phone was always ringing and it started to overwhelm me. I visited various clubs on trial and spent time at Manchester United and Nottingham Forest but I was lucky to get to Forest full stop. Brian Clough telephoned the house and my brother, who answered the call, thought it was a wind-up and put the phone down on him.
"At Old Trafford I sat in Ferguson's office, accompanied by my parents as I listened to what he had to say but the Forest experience was surreal.
"After spending a few days there, Cloughie took me to his house, he went into his garage and passed me some garden shears and ordered me to cut his bushes!"
However, it was Leeds United that won the race for Tinkler's signature:
"It felt right at Leeds. I spent a week there under the guidance of Dick Bate and I had no hesitation in signing the contract they offered me."
Tinkler was part of a special group of youngsters, more than half of them would eventually play in the Leeds United first team and it was that crop that, in 1993, lifted the FA Youth Cup by defeating Manchester United:
"That was a special time and something I will never forget. We had a superb coach in Paul Hart who had a great work ethic and he demanded the best from us. Shirking wasn't acceptable and we knew we had to put a shift in, both in training and on the field.
"I, like all the lads, was confident we could win the final although we weren't the favourites. We got stuck into them, never let them settle and it paid off."
By the time the young midfielder was pocketing his winner's medal, he already had seven Premier League appearances under his belt and had just missed out on playing at Wembley in the season's curtain raiser:
"I had travelled with the first team to Wembley for the Charity Shield in August 1992 but I didn't make the match day squad. Even so, it was an amazing experience just to be involved in the build up to the game."
Leeds, the defending champions, struggled throughout the campaign and despite a brilliant home record they hadn't won away in the league and one by one Wilkinson turned to some of the younger players. Rob Bowman made his debut in the February and the following month Jamie Forrester came on as substitute in an away game at Forest. Tinkler was on the bench that afternoon but didn't get on the field of play but he didn't have to wait much longer for a taste of the action:
"My debut was on the evening of the 6th of April away at Sheffield United; it was also Jamie Forrester's first start. Howard Wilkinson had told us on the morning of the game that we would be playing and I immediately informed my parents so that they could make their way to Sheffield. Unfortunately we lost 2-1 but I retained my place in the side for the next game which was at home to Blackburn Rovers and I remember that occasion more than I do my debut.
"It was fantastic running out and playing on Elland Road in front of the Leeds fans. It was a great game to play in and we got the three points in a 5-2 win, inspired by a Gordon Strachan hat-trick."
By the end of the 1992-93 season, Tinkler had started five first team games and made two further appearances from the bench.
During the summer the success continued as Mark, along with Leeds team mates Kevin Sharp, Noel Whelan, Rob Bowman and Jamie Forrester were part of the England squad which won the under 18 European Championships. Also included in that squad were the likes of Sol Campbell, Julian Joachim, Robbie Fowler, Paul Scholes and the Neville brothers.
Big things were expected from Mark Tinkler for the 1993-94 season but disaster struck and he never made a first team appearance until the 4th of April when he came on as substitute in a 4-0 away win against Queens Park Rangers:
"As preparations got underway for the new season I had been involved with the first team squad but unfortunately early on in the season I suffered a broken ankle during a reserve game against Manchester United."
It was a huge blow to the youngster who had never previously suffered with any kind of injury and it put him out of action for five months:
"I was naturally devastated but there were some great people around the club who offered help and encouragement whilst I was on the road to recovery.
"David O'Leary had signed from Arsenal and early on in the season he suffered an Achilles injury and we spent a lot of time together with the medical staff in the treatment room. David was a tremendous influence on me at a time when I was at my lowest. The season was a write off and I was restricted to just three appearances from the bench."
By his own admission, Tinkler never truly get over the ankle problem and he admits that he lost a yard of pace which he could ill afford as he was never the quickest. His Leeds career coughed and spluttered and he never really got a run in the side.
Mark Tinkler's final appearance in a Leeds shirt came in the final throes of Howard Wilkinson's tenure when he started in the 1-0 home win over Wimbledon.
"When George Graham replaced Howard as manager that really was the beginning of the end. It's fair to say that George and I never saw eye to eye and we had a couple of bust ups on the training ground.
"David O'Leary had been appointed as George's number two and he encouraged me to keep plugging away but I never made a single appearance under the new manager.
"A few clubs were interested in me and I needed to be playing football. I joined York City on loan before signing a permanent deal with them and I enjoyed my time there as I tried to re-establish myself in the footballing world."
Mark's manager at York was Alan Little and when he became manager at Southend, Tinkler followed him before enjoying a successful spell with Hartlepool United for whom he signed in the year 2000.
Unfortunately, after playing his part in the most successful spell in Hartlepool's history, injuries started to take their toll and in the summer of 2007 he was released and signed for Scottish club Livingston which is where his professional playing career came to an end at the age of 33.
These days Mark Tinkler is the under 18's coach at Middlesbrough and he looks back with fond memories of his time playing for Leeds United:
"I had joined the club at 16 years of age and left when I was 22. Leeds had become my second home and leaving was very emotional. The club meant a lot to me, and it still does. I was surrounded by top class players and there were some real characters. Gary McAllister and Gary Speed, in addition to David O'Leary, were big influences on me and then there was Gary Kelly who was the joker at the club. Gary was always cutting up peoples clothing and footwear and you did well not to be a victim of one of his pranks.
"Playing for Leeds is something I am extremely proud of. It was a special feeling applauding the supporters at the end of 90 minutes, especially if we had won. You knew that they were going home happy and you had rewarded them for spending their hard earned cash.
"The Leeds fans are top drawer and they expected maximum effort which it what I always set out to give."
Thank you to Mark Tinkler for giving me his time and the opportunity to write this article.